Austrian delicacies during Christmas time
Beverages and biscuits you have to try
When the scent of biscuits fills the air and you are holding a cup of steaming, aromatic Punsch in your freezing hands, you know that Christmas time has arrived!
For many, it's the most wonderful time of the year. In Austria, the offers and entertainment during Advent time are enormous and Christmas magic can be found everywhere. Small and huge Christmas trees, gorgeous Christmas lighting illuminating the city and Christmas decorations covering every house. In Vienna, Christmas spirit can be found in every corner of the city, from the proud Christmas markets and decorated sights (for example Vienna's city hall) to the men selling chestnuts and potato wedges on the street. You can detect Christmas scents everywhere, which lightens every mood and intensifies the Christmas spirit in Vienna. But what are the delicious smelling treats you can get in the whole city during Advent time? We introduce you to traditional Austrian food and drinks you have to try during Christmas time!
Warming beverages for cold winter days
You can't spend December in Vienna without having at least one Punsch (punch) or Glühwein (mulled wine) at a Christmas market. Glühwein is a typical Austrian beverage consisting of heated red wine and spices. Punsch is a drink made of fruit juice, spices and alcohol like wine or liquor. You will be blown away by all the different Punsch we sell here in Austria. Besides the classical Punsch, Orangenpunsch (orange punch) and Beerenpunsch (berry punch), they sell Apfelpunsch (apple punch), Eierlikörpunsch (advocaat punch), Kokospunch (coconut punch), Granatapfelpunsch (pomegranate punch) or Turbopunsch (strong alcoholic punch) and much more fancy and delicious mixtures.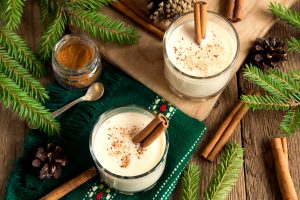 Of course, tea also pertains to our most beloved winter beverages. A good idea is to add rum to your tea for the warming effect. With a squeeze of lemon, the tea unfolds its full aroma and serves its purpose well.
Children also want to warm themselves at the Christmas market. Non-alcoholic alternatives like Kinderpunsch (children's punch), hot chocolate or milk with honey are delicious and also equally desired by many adults.
The best Austrian Christmas biscuits
Although everyone has a different taste and their own ideas about the perfect Christmas treats, we all agree about one thing: we are absolutely crazy about Christmas biscuits and can't wait for the time where Christmas biscuits can be found everywhere. Recipes and insider tips are passed on from one generation to the next. For many, Christmas traditions like baking biscuits together is a must. Remembering how funny it was to cut Zimtsterne with star-shaped biscuits cutters still brings adults joy. During Christmas time, biscuits taste twice as good as usual, simply because everyone has childhood memories about the best Vanillekipferl made with grandmother or other family members. It is pure joy to smell freshly baked Lebkuchen and to share self-made goods with neighbors and friends. Of course, biscuits at Christmas markets are also delicious. But of all the typical Austrian Christmas biscuits, which should you try? Here is an overview of Austria's best Christmas biscuits!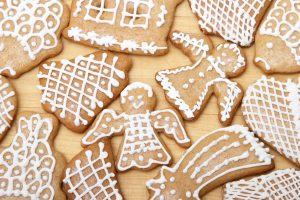 Vanillekipferl
Vanillekipferl are probably Austria's most famous Christmas bake ever. They taste like almond and vanilla and are known for their typical shape.
Linzer Augen
Linzer Augen are very soft cookies filled with delicious jam and dusted with icing sugar. They are famous for their special appearance.
Zimtsterne
Zimtsterne (cinnamon stars) are star-shaped delicacies tasting of almond and cinnamon and are topped with icing sugar.
Lebkuchen
Lebkuchen (gingerbread) are known all over the world as one of the most famous Christmas treats. There is no way to describe the typical aroma of Lebkuchen- they just taste like Christmas!
Rumkugeln
You should not eat too many Rumkugeln (rum truffles) before driving, as the lovely looking treats contain alcohol, which ensures a great and typical taste.
Kokosbusserl
Kokosbusserl (coconut kisses) are especially beloved by inhabitants for their enchanting name. Because they contain much coconut flakes, they are really juicy and wonderfully sweet.
Spekulatius
Spekulatius (almond biscuits) are really beautiful biscuits which contain a special spice which gives the treats their great aroma. They are best when dipped into fruit tea or Punsch.
Have a good time in Vienna warming yourselves with Punsch, filling your belly with all kinds of Christmas bakeries and enjoy Christmas time in this beautiful city!